About Us
We're an independent insurance agency located in Crofton, offering affordable and reliable insurance.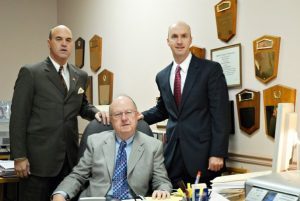 Carrollton Insurance was started in 1969 by Robert McMahon. Robert started out as a real estate salesman in 1968 where he worked for a local builder that built several large communities in the Washington DC area.
Robert quickly learned that including insurance in his real estate business model would provide a convenient solution for his customers.
Today, we are still located in the original community where Robert's vision all started, and the business now offers several other insurance plans such as auto, business, and boat insurance.
What Does "Independent" Mean?
As an independent agency, we're able to look at your insurance needs and match you with a carrier that best fits your goals.
We strive to offer quality insurance coverage, a high level of service, and a long-term professional relationship.
We're real members of the community. We shop at the same grocery stores, use the same dry cleaners, and know where to find the best cup of coffee. We also know what our community needs and are here to help you find the right coverage.
Insurance Tailored For You
We invite you to complete an online quote, email us, or call us at (301) 350-6205 to review coverage options for car and auto insurance as well as homeowners insurance, life insurance, business insurance, renters insurance, boat insurance, umbrella insurance, and more.
We provide free, no hassle and no obligation insurance quotes to help you make an informed insurance decision.
Carrollton Insurance Agency, Inc is licensed in the following states: Maryland, Virginia & Pennsylvania
Need an insurance quote? Get in touch!
Access quotes from Washington's most trusted insurance carriers. It's comparison shopping at the click of a mouse.